From pocket folders, brochures, posters and packaging to corporate identity programs, forms and sell sheets, our team of experienced professionals are prepared to handle any project you send our way. Contact us to schedule a tour and see our equipment and team in action.
Printing
Star Printing has evolved over the past 100 years to remain current with the latest in printing technology. Our prepress department, offset press equipment, digital printing, letterpress and bindery equipment are just a few of the many production channels we utilize to complete client projects. We support commercial, large format, specialty and quick printing specifications, which allow for a wide range of service capabilities.
For years, Star Printing has served corporations, small businesses, advertising and marketing firms and the general public through a variety of services and product support, including die cutting, foil stamping, aqueous coating, short run digital capabilities, embossing, letter press, UV coating, gluing and folding.
Packaging
In addition to our printing services, another capability we are proud to offer is our fully customizable packaging solutions. Whether your product requires physical protection, brand development for improved consumer awareness or sturdy presentation, we have the ability to create and personalize durable packaging that increases sales and builds your brand.
You have only moments to capture consumers' attention. Ensure that your packaging has the power to connect with hearts and minds by utilizing our expertise in customizing point-of-purchase and end cap displays that increase consumer awareness and promote growth by presenting your product in a professional, branded manner.
Our capabilities enable us to mechanically apply glue to packaging instead of applying by hand. This allows us to create durable packaging solutions with faster turnaround so your product is on the shelves and in front of customers as quickly as possible. If you have a project that needs special packaging — Star Printing is up for the challenge!
Planning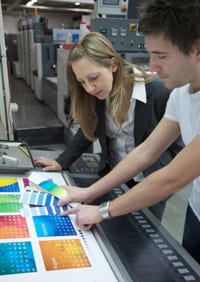 We use our experiences in the industry and our knowledge of print to help clients establish the best plan for ordering, design, engineering, manufacturing and fulfillment. Close communication and accessibility with our clients helps assure the timely completion of all project plans and schedules.
Problem Solving
For over a century, Star Printing has met all customer requirements with efficiency and a solid commitment to their success. We work as a team and create innovative solutions that lead to lasting results. Establishing and maintaining a respectable relationship with our clients enables us to implement effective processes and procedures to deliver a highly marketable product.
Production
Star Printing uses a variety of project management and workflow systems to ensure that ordering is streamlined and all production is managed from beginning to end in the most efficient manner possible. All customer specifications are reviewed and approved to eliminate the chance of errors, thereby assuring a complete and effective product.
Equipment List
All project preparation begins in the prepress department. After a designer releases digital files to print, the prepress department analyzes them for potential issues.
Direct to Plate Screen PTR 8100 Plate Setter
Screen Trueflow SE 7.20 CTP System
Mac Pro & iMacs
Dell Precision Workstations
HP DesignJet 23100
During the offset printing stage, inked images are transferred to a rubber blanket and then to the printing surface.
6-Color Man Roland 23″ x 29″ Perfecting Press with Coater
4-Color Heidelberg Speedmaster 28″ x 40″ Perfecting Press with Coater
2-Color Heidelberg GTO 14″ x 20″ Perfecting Press
2-Color Ryobi 13″ x 17″ T-Head Press
Letterpress printing uses relief printing, a process in which the protruding exterior is inked — leaving the lower-level areas ink-free.
Heidelberg Platen 10″ x 15″ Press
Heidelberg Cylinder Die-cutting 21″ x 31″ Press (2)
During the bindery process, paper is fastened together to produce books, booklets or packets.
Polar Mohr Cutter 46″ with 115 EMC Monitor (2)
Stahl Folder 26″ x 40″
Stahl Folder 20″ x 26″
Dick Moll Folder-Gluer
Heidelberg Prosetter Saddle Stitcher
Baum 5-Hole Drill
Shrink Wrap (2)
Brackett Padding Machine

We offer fully customizable packaging solutions to meet your needs and ensure that your product has a unique, powerful and professional presentation.