From our inception in 1909 to the print advancements of today, Star Printing Company Inc. has remained ahead of our competitors by maintaining a promise to deliver quality products and provide exceptional services. We are fully equipped to troubleshoot and fulfill all your printing, packaging, planning, problem solving and production needs.
Star Printing is a privately owned business built on family values and respect. As our client, you will experience this firsthand because our principles are embodied in our deliverables.
We guarantee a finished product that will meet all your expectations and solidify a lasting impression of quality service. Our experience enables us to complete projects in an accurate and timely manner while remaining sensitive to client timeframes and possible changes in project scope. When working with Star, clients leave with a satisfaction that builds their confidence in using our services time and time again.
History
Charles Dudley Filbey opened a print shop on Mill Street in downtown Akron, Ohio, during the revival of the letterpress in 1909; he was later joined by his stepson "Red" Lauck in 1939. As the years went by, Charles' printing business expanded; in 1977, the family business relocated to North Union Street.
Past President Bob Lauck Sr. worked at Star Printing for over 50 years and ensured the delivery of exceptional products and outstanding service. His two sons, Bob and Paul Lauck, help maintain the family business today. This third-and fourth-generation continues to uphold high levels of printing service just as Charles Dudley Filbey envisioned over 100 years ago.
Key Staff
For over 100 years, Star has maintained a commitment to be a trusted printer and partner leaving clients with satisfaction and guaranteed results. This commitment would not be possible without the knowledge and professionalism of the Star Printing team.
Bob Lauck, Sr., (1939 – 2012) Past President
Bob Sr. successfully guided Star Printing through 50-plus years of advancements in printing technology and the increased call for sustainable products and services. His dedication, steady leadership and progressive thinking helped Star become everything it is today: a third-generation family business focused on the success of its client partners.
Bob Lauck, Jr., Vice President & Production
Bob ensures that every project at Star exceeds client expectations and is delivered on time and on budget. He is focused on the efficient use of all resources and the timely completion of every printing or packaging venture.
Paul Lauck, President & Sales
Paul strives to bring together all aspects of sales, production and service to deliver outstanding results. For over three decades, he has been committed to long-term client relationships and the delivery of superior printing.
Lynda Lauck, Treasurer
Lynda oversees all Star financial matters and has worked to create and maintain a system of prudent financial control and accountability. She manages client contacts and provides Star a path toward continued growth and improvement.
Star Values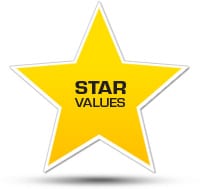 Integrity Above All
We value honesty and being forthright with our clients.
Impeccable Craftsmanship
We are masters of what matters most in the printed image.
Image Is Everything
We're dedicated to details so your image always shines consistently.
On Time, Every Time
Deadlines are as important as the quality printing we do.
Troubleshooting Is Key
We find potential problems and fix them before they occur.
Certifications

The Better Business Bureau (BBB) strives to advance marketplace trust by creating a community of dependable businesses, setting standards for marketplace confidence, encouraging and supporting best practices, celebrating marketplace role models and working against substandard marketplace behavior. The BBB ensures that high standards for trust are set and maintained so consumers and businesses alike have an unbiased source to guide them.

The Greater Akron Chamber is an economic development organization serving the counties of Medina, Portage and Summit in Northeast Ohio. Membership includes a diverse array of businesses ranging from global manufacturers and educational institutions to local machine shops and non-profit organizations.

The Northeast Ohio Craftsmen Club (NEOCC) was previously known as the Akron Club of Printing House Craftsmen. Originally chartered as a chapter of the International Association of Printing House Craftsmen, the founding members set out to support the international objectives at the local level. The NEOCC now endeavors to provide
opportunities for graphic arts professionals to share knowledge, engage in educational programs, encourage others, plan and teach graphic arts courses, promote friendship and fellowship, enhance industry stature and help the public understand the industry's place in the economy. Now known as the Northeast Ohio Craftsmen Club, this group is committed to upholding its core objectives.
Awards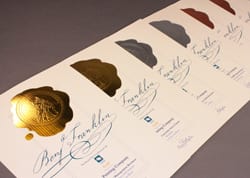 Star Printing Company consistently wins awards for its exceptional printing services and outstanding craftsmanship. We take pride in these honors, but what these awards really mean is that we care about how your finished job looks, the process
by which it was created and its overall design and purpose. Each award is a demonstration of our ability to create beautiful printed products for every client need.

We offer fully customizable packaging solutions to meet your needs and ensure that your product has a unique, powerful and professional presentation.